Welcome to the Akanne Care Job where dedicated young men and women work to give compassionate opportunities and restore happiness to aged and special needs individuals.
We have team of volunteered and dedicated young men and women who give back to their communities by providing care and assistance to elderly, physically or mentally challanged, or chronically ill persons.
Our program is designed to match volunteers with individuals who need extra support with daily living activities or help to get to their medical professionals.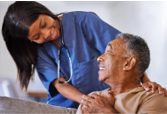 At Akanne Care, we understand that caregiving is a challenging and rewarding experience, and we are committed to providing our volunteers with the resources they need to succeed in this important role.
Our program offers training and ongoing support to ensure that our volunteers have the skills and knowledge necessary to provide compassionate and effective care to their clients.
Our volunteer opportunities are flexible and can be tailored to meet your individual needs and schedule.
As a caregiver volunteer with Akanne Care, you will have the opportunity to make a positive difference in the lives of those you serve.
You will be able to provide companionship, emotional support, and practical assistance to individuals who may otherwise struggle to meet their daily needs.
Akanne Care volunteer work may be that job experience you are seeking to land caregiver job abroad.